Who Is Pushkar Singh Dhami? 2-Time BJP MLA Set To Take Oath As 11th CM Of Uttarakhand On Sunday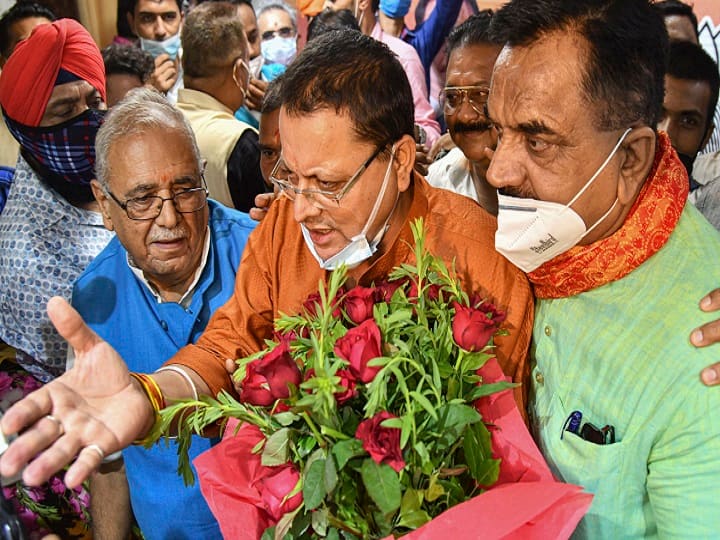 Dehradun: Pushkar Singh Dhami, MLA from the Khatima constituency, will be the new Chief Minister of Uttarakhand, Bharatiya Janata Party (BJP) announced a day after Tirath Singh Rawat resigned from the top post.

The announcement of Dhami's appointed as new CM of Uttarakhand was made after his name was finalised at the BJP Legislature meeting at the state BJP headquarters at Dehradun.
After the meeting, Dhami was appointed as Uttarakhand BJP legislature party leader. While speaking to reporter's after being appointed as 11th Chief Minister of Uttarakhand, Dhami said that he will now go to Raj Bhavan to meet Governor Baby Rani Maurya.
Who Is Pushkar Singh Dhami? All About Uttarakhand's 11th Chief Minister
Dhami, who is considered close to Union Defence Minister Rajnath Singh, was elected as new Chief Minister of Uttarakhand after 57 MLAs of BJP met today at party headquarters in Dehradun.
The 45-year-old politician, who is also a two-time-MLA, represents the Khatima constituency. Dhami was an Officer on Special Duty to former Uttarakhand Chief Minister Bhagat Singh Koshiyari.
As per latest updates, Dhami, along with several other BJP leaders headed to Raj Bhavan and said that they will request Governor to hold swearing-in process today itself.
"My party has appointed a common worker, son of an ex-serviceman, who was born in Pithoragarh to serve the state. We'll work together for people's welfare. We accept the challenge of serving people with the help of others, in a short time span," Dhami told reporters after being announced as Uttarakhand CM.
Dhami is a member of the Uttarakhand Legislative Assembly from the Khatima constituency in Udham Singh Nagar district in Uttarakhand.